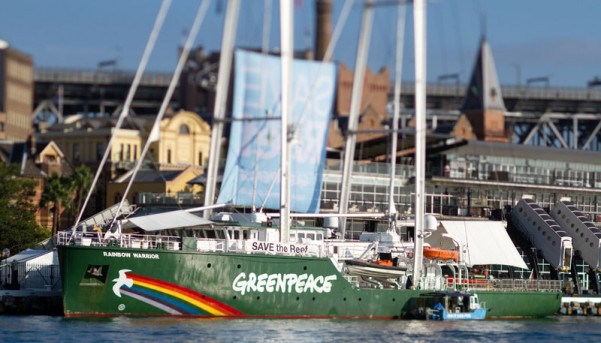 "When the earth is ravaged and the animals are dying, a new tribe of people shall come unto the earth from many colours, classes, creeds, and who by their actions and deeds shall make the earth green again.
They will be known as the warriors of the Rainbow" 
— North American Cree Indian Prophecy
Greenpeace
"To ensure the ability of the Earth to nurture life in all its diversity."
Greenpeace's Mission Statement
 Greenpeace is a non-government environmental organisation that uses direct action, lobbying and research in its campaigns. It does not accept funding from Governments, corporations or political parties, instead relying upon close to three million individual supports for all its funding.
Greenpeace evolved and grew out of the peace and anti-nuclear movement during the late 1960's and early 1970's in Canada. In 1971 the Don't Make a Wave Committee was formed and in September of that year chartered a ship the Phyllis Cormack which was renamed Greenpeace to protest the nuclear bomb tests by the United States in Amchitka, Alaska. The name Greenpeace was subsequently adopted.
Today Greenpeace is the largest and most visible environmental organisation in the world. It continues to raise environmental issues and fight to change attitudes and behaviours, to protect and conserve the environment and to promote peace.
Rainbow Warrior III
"Since setting sail in 1978 the Rainbow Warrior has been on the frontline of the struggle against environmental abuse, she is an icon of non-violent direct action
and a beacon of hope for millions of people around the world."
 Kumi Naidoo, Greenpeace International's Executive Director, said at the keel laying ceremony, which took place on 10 July 2010 – the 25th anniversary of the bombing of the original Rainbow Warrior.
The Rainbow Warrior III is the third ship bear this famous name and the first to be built specifically for Greenpeace. She is one of the most environmentally-friendly ships ever made and purpose built for environmental campaigning.
 Ships Specifications
Name: Rainbow Warrior III
Port of registration: Amsterdam, Netherlands
Vessel Type: Motor Sail yacht with helicopter landing deck
Class: Germanischer Lloyd, Notations include Green Passport
Length Overall: 57.92m
Beam (Max): 11.30m
Draught (Max): 5.15m
Air Draft: 54.25m
Gross Tonnage: 855
Sailing Rig: Staysail Schooner, 2 A frame mast with 5 sails
Sail Area: 1255 sq meter
Service Speed / Max Speed: 7 knots / 15 knots
Main & Auxiliary Engines: Caterpillar, IMO Tier II Certification
Cruising range: up to 9,500 nm
Accommodation: 30 people
A Green Heart
The Rainbow Warrior III (RB-III) is the first ship to be purpose build for Greenpeace's environmental work from the start with top priority being given to making her as environmentally-friendly as possible.
This can be seen in the basic fact that the RB-III is primarily a sailing ship with 55 metre high A frame masts allowing over 1200 square meters of sail to be used. The ship also has electric engines for propulsion when needed.
Other environmental features of the ship include:
A hull shape designed specifically for superior energy efficiency
A-frame mast and sails – optimised for highly effective sailing
Electric drive system (10 knots on only 300kW)
Extended environmental assessment of the Ship
Highest environmental standards of all engines (IMO Tier-II)
Green ship class notation with Green Passport
Voluntary environmental protection class notation
Exhaust gas treatment, minimizing NOx emissions and Particulate Matters (PM)
Biological treatment of sewage and grey water
On board storage of up to 59 cubic meters of grey and black water avoiding any need for at sea disposal
Central filling and venting system for fuel and oils to prevent spills
Environmentally friendly paint system
A Campaigner's Dream
The RB-III is designed from the ground up for the rigours of environmental campaigning on the open ocean in some the world remotest places. It has also given Greenpeace the opportunity to showcase just how such a ship can be build to the highest 'green' standards without compromising performance or functionality.
Some of these environmental campaigning features include:
The RB-III is fast
Action boats can be deployed quickly and in seas up to 3.5 metres
Helicopter hanger and landing pad
State of the art communications hub with built-in satellite uplink allowing live streaming of data and video footage
On board science capabilities that allow scientist to work on location
To learn more about Greenpeace, their campaigns
and to become involved please follow this link.
Greenpeace Australia Website
Please Note
That the information presented on this webpage was provided by Greenpeace and gathered from various websites.