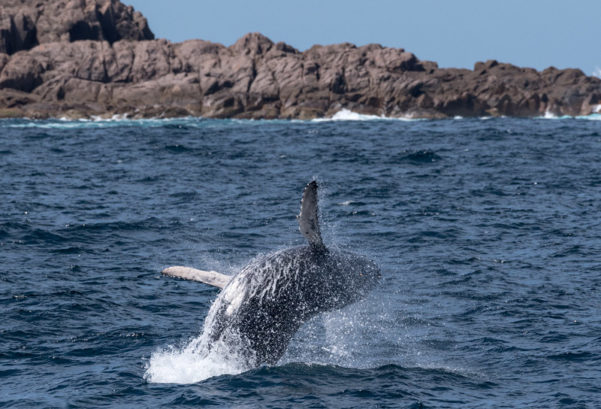 The Humpback southern migration is in full swing down the NSW Coast and it's definitely time to escape the big city! So off to beautiful Port  Stephens a few hours drive north of Sydney with some friends to join Moonshadow Cruises to go whale watching. 
September and October are by far my favourite whale watching months of the year. Spring is here, days are warmer and longer, the whales are coming south. Everyones relaxed, far more than on their northward journey when there were babies to be made and had.
There is nothing so beautiful as the joy of life in baby animals. Baby Humpbacks are no exception, its just on a much bigger scale!
We have hardly left the entrance to Port Stephens when we spot a pod of whales playing. Its two mum's with their calves and the calves are having a ball.
We tag along south as the calves constantly play, breaching and tail slapping. It's almost as if they need to try out every acrobatic manouver at once. The mum's like mums the world over are just tagging along trying to make sure junior doesn't get into too much trouble.
We follow the whales in-between the islands just off the coast, its a little choppy with the waves reflecting off the islands but the show is fantastic. I've not had the best of whale watching seasons so this is great!
On the way home we stop by to visit the New Zealand Fur Seals hanging out on Cabbage Tree Island. Its wild and rugged on the eastern ocean facing side giving way to beautiful clear waters, trees and Cabbage Tree Palms on the protected shore facing side. The seals are in a little cove, hauled out on the rocks looking fat and happy as they lounge in the sun. It's wonderful to see the seals returning to these areas having been completely wiped out by sealers in the 1800's.
Now we're on the search for dolphins! Secretly I was hoping to see these guys more than the whales and there are lots that call Port Stephens home. They are the Indo-Pacific Bottlenose (Tursiops aduncus or inshore Bottlenose) Dolphins who inhabit the costal waters and rivers around Australia. We spot them as we enter back into Port Stephens, Yah!!
The name Bottlenose Dolphin can be a little confusing as there are in fact at lease four subspecies of Bottlenose Dolphins in Australian waters.
Common bottlenose dolphin (Tursiops truncatus), sometimes referred to as the Atlantic Bottlenose dolphin. They are found in the temperate and tropical parts of most oceans.
Indo-Pacific bottlenose dolphin (Tursiops aduncus) also sometimes know as the Southern Hemisphere Bottlenose Dolphin or Inshore Bottlenose Dolphin. These are found in the waters around India, Australia, East Africa and the Red and South China Seas.
Pacific bottlenose dolphin (T. truncatus gilli) which is found in the Pacific Ocean.
Burranan dolphin (Tursiops australis) was only officially recognised in 2011. They are found only in Port Phillip Bay and Gippsland Lakes areas of Victoria, Australia.
To learn more about Bottlenose Dolphins check out the Whale Spotter Dolphin Information Page: Bottlenose Dolphins
All in all a grand day out and all too soon we are heading back to port. Its been a wonderful day and I'm sure to be back to this beautiful part of the world. 
Port Stephens
To learn more about the Port Stephens area and Moonshadow Cruises please see these links:
Port Stephens Visitors Information Centre PSVIC
Moonshadow Cruises MSC
Camera Kit
Nikon D610 Digital Camera
Nikon D500 Digital Camera
Nikon AF-S NIKKOR 16-35mm f4G ED VR Lens
Nikon AF-S NIKKOR 200-500mm f/5.6E ED VR Lens
Sirui W-2204 Waterproof Tripod with Sirui K-20X 
Ballhead
F-Stop Camera Bag

Thanks!
My great thanks to Nikon Australia, Mainline Photographics and Pixel One for your outstanding support, guidance and encouragement. Without it this trip would not have been possible!
Nikon Australia – Nikon Cameras
Mainline Photographics – Siri Tripods
Pixel One – F Stop Camera Bag