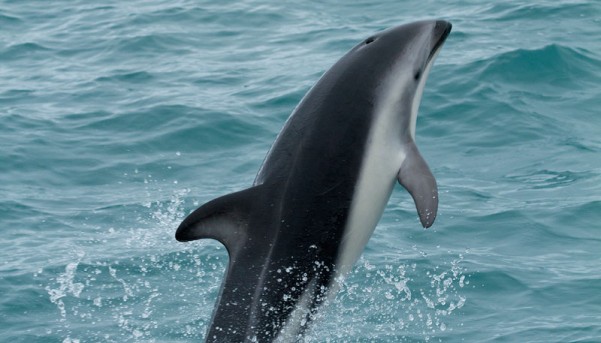 ———————————————-
UPDATE: Kaikoura Earthquake November 2016
Our thoughts, best wishes and prayers are with everyone affected by the earthquakes that struck the northern areas of New Zealand's South Island.
Please know that you have many friends around the world who are standing with you through this very tough time. We are all looking forward to seeing you back on your feet very soon. We also can't wait to come back to visit and spend time with you in our beloved Kaikoura, one of the most beautiful and special places on Earth.
Best wishes and take care WS!
———————————————-
The Dusky Dolphin (Lagenorhynchus obscurus) is found in coastal waters across the Southern Hemisphere. They are know for their spectacular acrobatics displays including jumps, back flips and summersaults.
A medium sized dolphin, adult Dusky's in New Zealand waters are up to 180cm long
and up to 85kg's in weight.
The Dusky's found off Kaikoura, NZ live in large pods that are composed of two smaller sub-groups composed of mating adults (mating groups), mothers with calves (nursery groups) and non-breeding adults.
They prefer usually prefer cool currents and inshore waters but can be found offshore as well where they feed on fish and squid.
Although the Dusky's of Kaikoura are completely wild a great way has been found to keep them very amused, they let us swim with them! For most people this is a life changing experience, to interact with a totally wild animal on their terms not ours.
Dolphin Encounter at Kaikoura runs daily Dolphins and Albatross watching tours (weather permitting).
My great thanks to the crew of Dolphin Encounters for taking me out to see more Dusky's than I thought was possible. You were all so positive and great fun to be with!
Dolphin Encounter
To find out more about Dolphin Encounters and their Dolphin and Albatross watching tours, as well as their Dolphins Swims
please see their website www.dolphinencounter.co.nz (DEK)
Dolphin Encounter
96 Esplanade, Kaikoura (on the beachfront)
http://www.dolphinencounter.co.nz  (DEK)