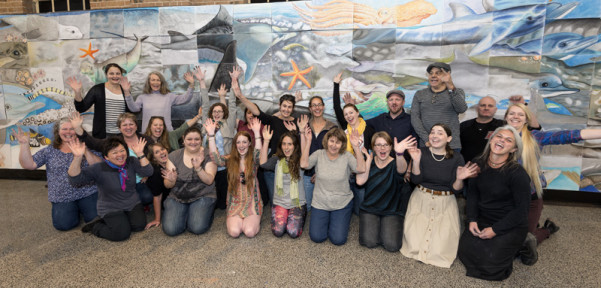 "l paint what cannot be photographed, and l photograph what cannot be painted!" – May Ray
Oh to be able to paint and draw! I'm spellbound when I see magnificent art. Its probably not that surprising that I love photo realistic style.
Natural History Illustration – University of Newcastle
Over the past four years I've collaborated with the students and teachers from the department of Natural History Illustration to create the most beautiful whale drawings.
Under the guidance of Dr Trevor Weekes third year students chooses a whale species then creates a scientifically accurate side profile and a field identification profile. This process gives the students some real world experience of dealing with the needs of a client as well as seeing their art delight and inspire the world. It has been such a privilege and honour to work with such a gifted group of artists.
Draw24
On Thursday 10th September over 30 members of the Natural History Illustration Club and Newcastle University staff and students gathered at the Newcastle Museum for this years Draw24. Draw24 is a 24 hour drawing marathon raising money charity, this year for Native Animal Trust Fund (Hunter Wildlife Rescue).
Whale Spotter had been invited along as this years theme is a celebration of the Ocean. The mural was made up of A2 sized pieces of paper drawn by each artist and then joined together to make the larger picture. Now Trevor said that the drawing included a "whale and a few other things". Little did we know what an amazing vision he had for us! It was an ocean full of everything you could imagine …let the drawing fun begin!
The Tyranny of a Blank Page!
The mural is three metres high by twenty metres long so Trevor's concept drawing covers an A3 sheet of paper. This is then divided up into 'A3' sections about the size of a stamp! Each artist has to transpose this 'stamp' to their A3 piece of paper, then work out what part of what they are drawing and how it fits into the larger mural. I think I need a little lie down already! 
 There is a certain magic in seeing an artist transform a blank sheet of paper into three dimensional animals. 
 As each sheet is finished it is added to the mural. It soon becomes apparent that each artist bring their own distinct styles to their drawings adding extra interest.  
What Happen's on Draw 24, STAYS on Draw24! All I'll say is that 'Bum Charades' at two in the very am is all rather hilarious! We shall not speak of this again….
A Beautiful Epic
After 24 hours the mural is finished and it is astounding! A testament to a very talented group of wonderful people.
Thanks!
My sincere thanks to Dr Trevor Weekes, Dr Andrew Howells – Natural History Illustration at Newcastle University, The Natural History Illustration Club,  all the generous staff from the Newcastle Museum and all the amazing artists who gave so generously of their time and gifts.
Natural History Illustration (NHI)
Newcastle Museum (NM)
Hunter Wildlife Rescue (HWR)