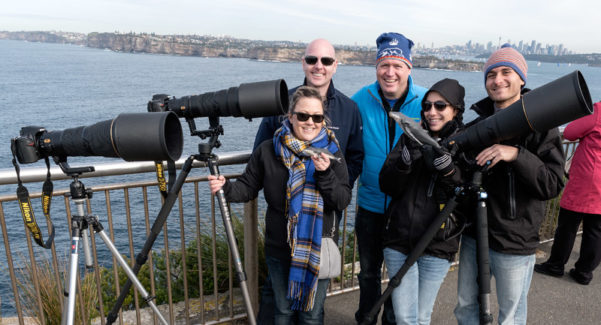 On the coldest day so far this year I joined teams from ORRCA and NSW Parks & Wildlife on a very windblown North Head at the entrance to Sydney Harbour to count the annual Humpback Migration. I also invited Nikon Australia to come along and enjoy some whale watching with us.
Overnight temperatures had dropped to below zero and it has been snowing in the Blue Mountains west of Sydney during the past few days. To say the wind went right through you was the shivering understatement of the day! If I had a dollar for every day I have spent frozen to the railings of the Fairfax Lookouts at North Head whale watching I think I'd be happily retired in the Bahamas. Such are the trials and tribulations of a whale watcher…
We spotted our first pods at 8am and have halve a dozen by 8.30am, a fantastic start! Over the next few hours we counted a constant stream of Humpbacks heading north to their breeding grounds off Queensland. Peak of the northern migration is around the end of June beginning of July. Even a few local Bottlenose Dolphins swim past to say hi.
Now wildlife photographers the world over love their 'long' glass. In many cases it's an essential bit of kit as you simply can't get that close to wild animals. Photographing whales from land is challenging at the best of times, whales spend 95% of the time underwater and are usually many kilometres out to sea. Even if you are extremely lucky and a whale comes close to shore it will still be hundreds of metres away. So a long lens becomes vital!
The team from Nikon Australia have very kindly brought along some of the epic 'big' glass for us to photograph the whales this year. Our camera kit is really an embarrassment of riches with a:
Nikon D4s Digital Camera (full frame sensor)
Nikon D500 Digital Camera (cropped sensor)
Nikon D750 Digital Camera (full frame sensor)
Nikon AF-S Nikkor 200-500mm f/5.6E ED VR Lens
Nikon AF-S Nikkor 400mm f/2.8E FL ED VR Lens
Nikon AF-S Nikkor 500mm f/4e FL ED VR Lens
Nikon AF-S Nikkor 600mm f/4E FL ED VR Lens
Sirui R-4213X Pro Carbon Fiber Heavy Duty with Sirui PH-20 Professional Carbon Fibre Gimbal Head
Now they say that all's fair in love and war and when it comes to wildlife photography grabbing every mm in focal length you can, can be the difference between magic and an uninteresting speck on the horizon. The easiest way is to use a 'cropped' sensor camera as they effectively increase your focal length (Nikon 1.5 times, Canon 1.6 times). As an example a 100mm lens would become a 150mm (Nikon) or 160mm (Canon) lens. A large telephoto lens like the 600mm becomes a 900mm (Nikon) or 960mm (Canon), giving you a lot of extra reach.
To see what this means in reality here are two photographs of the the Hornby Lighthouse on the tip of South Head. The first photo taken with a standard 50mm lens on a full frame camera (effective focal length 50mm) and second made with the 600mm lens on a cropped sensor camera (effective focal length 900mm).
Even with all these massive lenses and cropped sensor cameras it was still necessary to crop the images I've posted in this story as the whales were more than a kilometre away most of the day.
It also must be noted that super telephoto lenses are not for everyone in terms of size and expense so its well worth considering lenses in the 100-400mm focal range. They are fantastic wildlife and sports lenses that are much smaller, hand holdable and comparatively less expensive than their big brothers. I used Nikon's awesome new combo of the 200-500mm and D500 camera (300-750mm effective focal length with the Nikon cropped sensor) with great success today. This kit is less than the price of one of the super telephone lenses.
All in all a fantastic day of whale watching with more than 800 whales spotted across Australia including Humpbacks, Southern Rights, dolphins and even some Killer Whales. We got to try out some awesome Nikon glass, learnt more about cameras, photography and talking to people about whales. My great thanks to ORRCA, NSW Parks & Wildlife and Nikon.
Related Links
ORRCA – ORRCA Website
NSW Parks & Wildlife – Wild About Whales Website
Nikon Australia – Nikon Australia Website
Mainline Photographics – Sirui Tripods Website