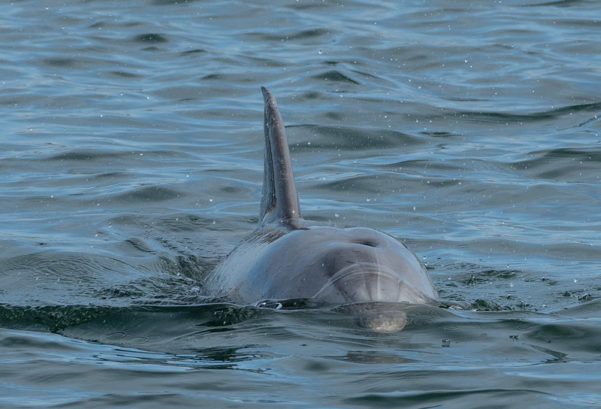 Jenni does her best Starsky and Hutch slide across the bonnet of her car, camera held high! Well ok not really but we're having great fun racing around the shores of Adelaide's Port River hoping to catch a glimpse of the locals.
I'm hanging out with Jenni, Trudy, Maryann and some of the other fantastic local dolphin watchers who monitor the forty or so dolphins that call the Port River home. We've been for a river cruise with Dolphin Explorer Cruises and caught a few glimpses, but the dolphins are proving to be elusive.
Three species of dolphins are found in South Australian waters. Close to the coast are the Indo-Pacific Bottlenose Dolphin (Tursiops aduncus) sometime also called the Inshore Bottlenose Dolphin. The Short-Beaked Common Dolphin (Delphinus delphis) can be seen in the gulf's and out into deeper waters and along the oceanic coasts and out in the deeper waters you'll find the larger Common Bottlenose Dolphin (Tursiops truncatus).
For in depth information on Bottlenose Dolphins please see the Whale Spotter Dolphin Page – Bottlenose Dolphins
A resident pod of around 30 to 40 Indo-Pacific Bottlenose Dolphins call Port Adelaide home with more than 300 other dolphins being recorded as visitors over the years. The area the dolphins call home has been protected as the Adelaide Dolphin Sanctuary. The Sanctuary covers a 118km² area including the inner Port, Barker Inlet, Outer Harbour and North Haven marina, then north along the coast as far north as Port Gawler.
The Port River area is really the industrial heart of Adelaide. Along its banks are bulk cargo and container handling facilities, heavy industries, naval ship yards, fishing docks, salt ponds and power stations. 
The dolphins are being extensively studied by Dr Mike Boseley and his team from the Whale and Dolphin Conservation Society. They work hand in hand with a dedicated group of volunteers who monitor the dolphins daily.
Related Links
For more information about Adelaide's Port River Dolphins please see these links:
Whale and Dolphin Conservation Society WDCS
Adelaide Dolphin Sanctuary ADS
Port River Dolphins PRD
How to recognise Adelaide's dolphins RAD
Dolphin Trail DT 
Dolphin Explorer Cruises DEC
Camera Kit
Nikon D610 Digital Camera
Nikon D500 Digital Camera
Nikon AF-S NIKKOR 16-35mm f4G ED VR Lens
Nikon AF-S NIKKOR 70-200mm f/2.8G ED VR II Lens
Nikon AF-S NIKKOR 200-500mm f/5.6E ED VR Lens
Sirui W-2204 Waterproof Tripod with Sirui K-20X 
Ballhead
F Stop Ajna Camera Backpack
Overboard 30 litre Pro-Sports Dry Bag Backpack

Thanks!
My great thanks to Nikon Australia, Mainline Photographics, Pixel One and Overboard for your outstanding support, guidance and encouragement. Without it this trip would not have been possible!
Nikon Australia – Nikon Cameras
Mainline Photographics – Siri Tripods
Pixel One – F Stop Camera Bag
Overboard – Waterproof  Bags